🎉 Exciting new compact case from Texen, using 100% PET materials, and reaching its eco-design objectives.
🎊 Roctool is proud to be a part of this great project.
Read the INDUSTRIES Cosmétiques article here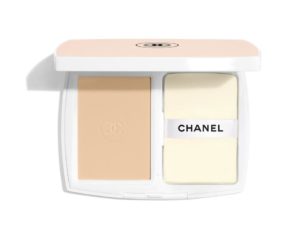 For the iconic Le Blanc foundation, Chanel has chosen PET, while maintaining the same high technical and aesthetic standards. The choice of this complex material represents a strategic step for the brand, and a new challenge for Texen.
This large, refillable case features a compact foundation that promises light and radiance for the face. Previously made from ABS, the case is now made from 100 % PET (excluding pin and mirror). With this strategic choice, the brand anticipates European regulations on cosmetic materials and pursues its eco-design objectives.
Historic collaboration
We remember the recent XXL Les Beiges case, for which Texen multiplied the challenges of a large, thin-walled piece injected in rPET. This time, Chanel opted for PET rather than rPET for the color stability of the case's light shades. As part of a long-standing collaboration with the brand, this new development illustrates the many challenges involved in transforming and decorating a new material.
To respect PET's choice, Texen drew on its experience gained during the development of the previous case. It was a driving force behind the project, in order to meet the same quality requirements as the brand. It had to reconcile design and industrial processes, and challenge its partners.
A solution for every challenge
The first challenge: the complex injection of PET required multiple tests, particularly for the hood, whose top and waistband are in two different shades. To inject the waistband, Texen used the "Besst Transform" induction technique from Roctool engineering. The result is an aesthetically perfect piece with no surface defects. The brand logo is then hot-stamped in the center of the lid. All parts were injected and then decorated in-line with HES varnish (high extract solids), notably the bottom of the case, on the Picoligne line installed at Texen CMSI. It should be remembered that this surface treatment module favors agile and secure production (reduced transport, quality reactivity, reduced inventory and lead times, productivity…).
The parts are then assembled on the Smart compact line, equipped with an on-board "zero defect point" control module on 100 % parts. Lid and hinge are connected by a pin compatible with the mechanical properties of the material. Inside, the cup holder is clipped into the technical grid, enabling the consumer to easily replace the refill.
About Besst Transform
This concept makes materials sublime. It optimizes the manufacture of even the finest parts for ultra-premium aesthetics and absolute brilliance. The Texen Lab uses dedicated equipment to produce prototypes under real-life processing conditions, enabling the material to retain its fluidity for flawless packaging.